Featured
WNCC presidential finalist Greg Dert featured in the open forum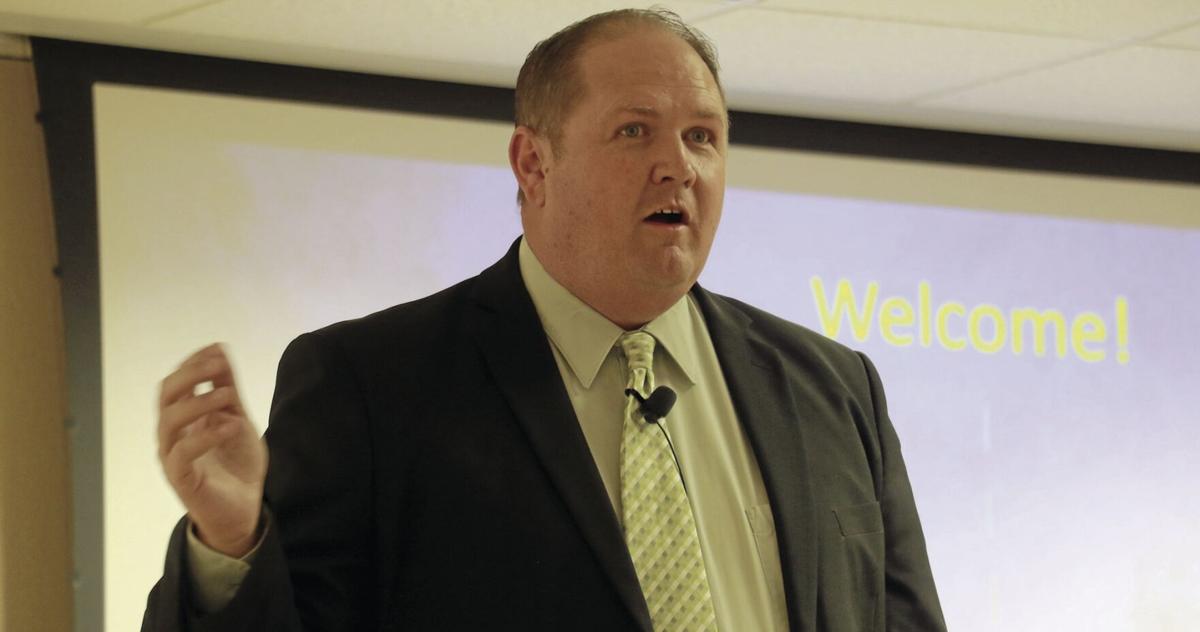 As Western Nebraska Community College continues its search for a new president, the second candidate for the post, Greg Dart, spoke about his energy and positions Wednesday.
Spears, who was formed as a candidate on the Scottsbluff campus, is now the chief campus administrator for Eastern Utah State University. He previously held the positions of vice chancellor of student affairs and enrollment services and director of enrollment at the same college, in addition to positions at Zane State College in rural Ohio and Snow College in rural Utah.
He received a Master's Degree in Education Technology from Utah State University, and is completing his Doctorate of Education in Higher Education Administration from Northwestern University, pending completion of his dissertation.
During his opening statement, Dart related his life and career experiences to WNCC and its ministry. As a native of Anchorage, Alaska, he attended a rural community early in his educational career and maintains a strong focus on that type of education.
"I went to Snow College for the first two years of undergrad, which is a residential rural community college. That was the purpose of higher education. Before this college I thought what others did," he said. "I believe very strongly in rural residential education, so I think Western Nebraska checks all the boxes for (my family)."
WNCC faculty, staff and community members later asked questions on a variety of topics, many of which are answered below.
WNCC has three campuses, how visible and involved would you be on all three?
Jacque said that he does not draw a line that is busy and visible on the WNCC campuses, but that he is present in the communities to which he belongs so strongly that it is impossible to separate and treat the community colleges and their communities. details
"I think it's vital for the president to be visible not only in those fields, but also in the communities." "The president needs to be there. They need to focus on that field and in the communities, to understand the crises and the needs in the communities."
He said he was the first to experience the kind of treatment that far-away campuses are often subjected to, to play second fiddle to the main campus, and that he was determined not to experience anything on the WNCC campus.
"I'm about 180 miles from Utah State University, I call maternity, and I said I'd get there in three hours, but it must take a lot longer where I am, because I seem to get up there more often than anyone comes where I am. That's what feels like the field has gone out to sea.
What is your experience with career and technical education development and career development?
James said his entire 17-year career in higher education has been spent at institutions with a strong focus on career and technical education development. He sees the purpose of such programs as a direct response to the needs of the community, sometimes a little more quickly.
"The most important thing I've learned in my time working in career and technical education is the ability to be agile," he said. "Meeting the needs of the communities you serve is such a big part of career and technical education all around.
Jacque shared a few stories from his tenure at Eastern Utah State University to illustrate how the school was able to assess or predict the needs of its community audience and respond quickly after the closing of the coal mines and the arrival of the local contractor's rapid expansion. flexibility and awareness that he finds necessary in workforce development programs.
"I believe that any time you talk about career and technical education or job education, you have to ask what those needs are. "You have to be deeply involved with the communities you serve," he said.
What is your experience with diversity, equity, and inclusion, and how could this institution improve in those areas?
Jacque shared a story about the process of learning in this particular field, and learned a lesson about how a half-hearted job is of no use to him. When he arrived at Eastern Utah State University in 2012, he said the campus did not have a God (diversity, equity and inclusion) office or a diversity center. He worked hard to make those resources ready and they were ready, he realized that he could do nothing without developing culture.
"Having a job is nothing. Having it as a lens that you see everything you see through and every decision you make is what matters, and do what everyone else can see through that lens," he said.
For WNCC specifically, Dart said that improving diversity, equity and inclusion has come down to whole-institutional buy-in to those principles to make sure that no one is inconvenienced simply because they are inconvenienced.
"More than anything, there is work that must come both from the bottom up and from the top down," he said. "In every way you are set up to be different or more different than the community you serve." Sometimes that is difficult. I think it is vital. I don't think we can ignore the differences in our students, our faculty, our staff and our communities and expect them to care about themselves."
How did you approach staff and resource relationships and how did you build trust and rapport with them?
Jaacul said that the COVID-19 pandemic has taught everyone a lesson that those who work in organizations with a wide geographic function are already aware of: a group of people who work together cannot always be in the same room and relationships must be built on. others do otherwise. He said his method of accomplishing this is what he calls a radical philosophy of transparency, which he has integrated into many of his responses throughout the forum.
"A sugar-coated view of what is being done or hidden that is potentially negative leads to mistrust," he said. "I also strongly believe that it is vital that you know the field that you serve and the people on those fields. It is important to take it in time.
According to Dart, trust is the achievement of unity through good times and bad, and it can only be nurtured between people who work and communicate with each other. As such, it is important to know that you are confident in all three fields for great jobs.
Can you tell us how you see accountability as an institutional framework or value?
"One of the strongest forces in our world is what I call a united reason," Det said. You know you will do what you can, and I will put it where I can.
He also proposed to keep his leader, and to hold each one of them to believe and to work according to the principle by which he could be best instituted, and for that too.
I believe the faculty, staff and students here are outstanding. They have a different selection, and here is the option. They want to make this organization the best it can be. You will have to account for this, he said.
What do you think about the role of the arts in the academic community and the community?
He shared his love of the arts, explaining how important they are to a well-rounded education. He said the skills bring out critical thinking and communication skills at all ages that might not otherwise be unlocked.
"We can't forget what makes life more round," he said. "You see critical thinking that you don't see in other ways. You see an ability to communicate that is hard to find in other ways."
In terms of promoting skills in the community, Dart said colleges and universities have an important role to play in creative communication with their service area.
"I believe it has vital functions. We have taxpayer funding opportunities that aren't open all the time that can be home programs," he said. "They need to communicate skills in meaningful ways … especially in rural communities."
Candidate George McNulty to be interviewed on April 3. The final presidential candidate forum featuring candidate Todd Brand will take place on Thursday, April 13th in the John N. Harms Center on WNCC's Scottsbluff campus at 4:30 pm
The Western Area Community College Board of Governors is expected to announce its choice of WNCC president at its regular meeting on Wednesday, April 19.