Featured
TouroCOM Alumna Featured in New York State's Vaccination Campaign | Touro College of Osteopathic Medicine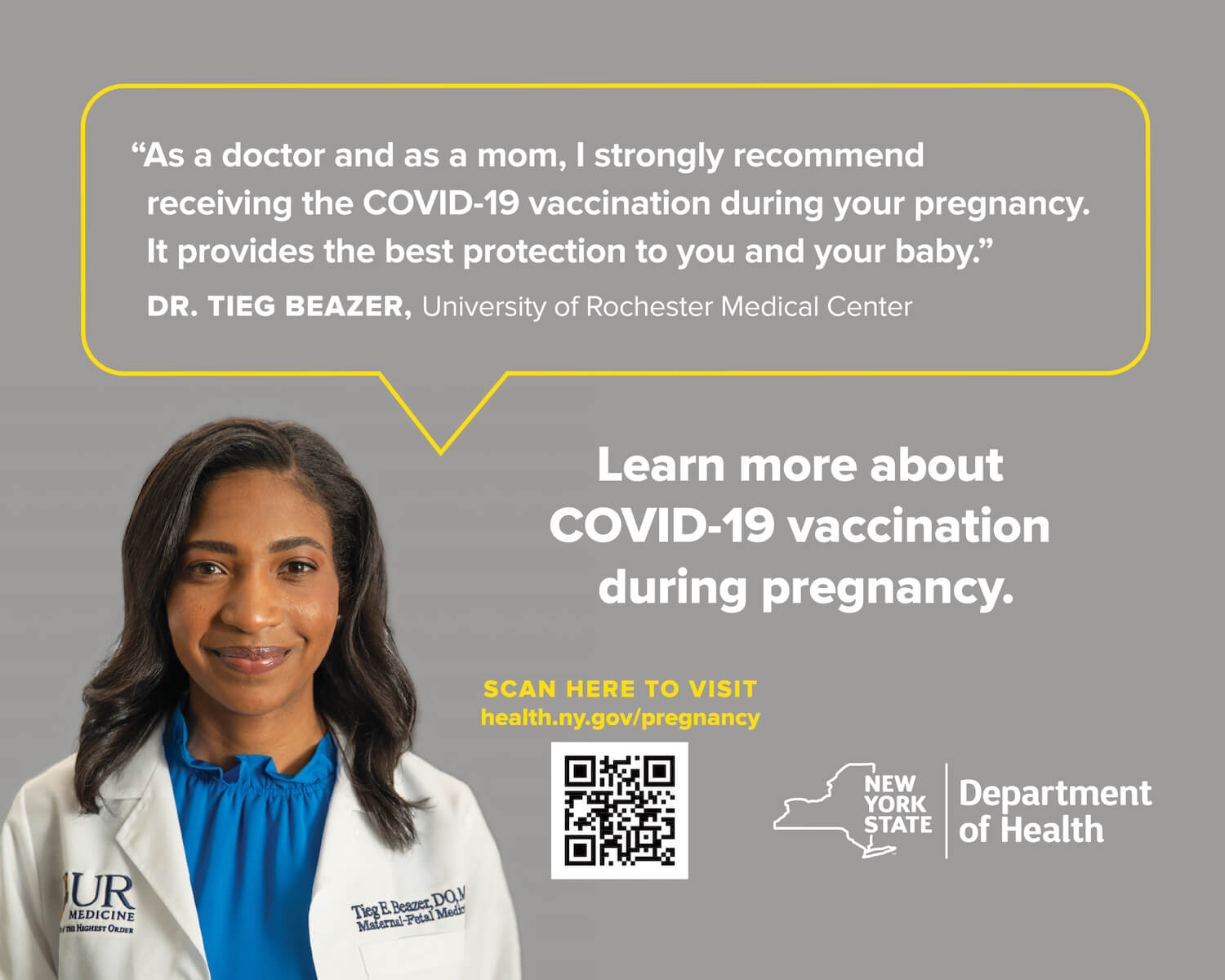 TouroCOM Harlem student Dr. Tieg Beazer was the face of the New York State vaccination campaign, which encouraged pregnant women to get the Covid-19 vaccine and booster shots.
Tieg Beazer, DO, MS, has always been a star in the care of vulnerable people. "I grew up in a family of nurses," Dr. explained Beazer, who attended Wake Forest University before joining TouroCOM Harlem Master of Science in Interdisciplinary Studies in Biological and Physical Studies in 2012 and later matriculated in the class of 2012. "I am passionate about public health and educating our patients. I want to get ahead of misinformation from social media and internet platforms.
The state-wide campaign includes a 30-second video that appeared on streaming platforms and social media including Hulu, Instagram, and Tik-Tok; The audio version has been designed to be played on Spotify, Pandora and traditional radio outlets. Apart from digital games widely, the fixed board was also displayed in train station and train.
"I am very grateful that Touro instills in us the value of branding the community in which we serve.,said Dr. Beazer, who has partnered with TouroCOM, has received student Dr. Adam Starr. "I stumbled upon it when I was at TouroCOM in Harlem, and I took my love of volunteering and community service with me."
Dr. Beazer did his residency at Cooper University Hospital and is on a three-year fellowship in maternal-fetal medicine at the University of Rochester Medical Center.
He wanted to specialize in maternal-fetal medicine after witnessing a maternal discharge during his first week of residency.
"It was eye-opening and heart-breaking," said Dr. Beazer. "Seeing that inspired me to specialize in complicated cases. I was attracted to patients who required additional medical care during their pregnancy as I felt like it was where I could have the most impact as a doctor."
In the first month of the partnership, Dr. It was discovered that Beazer was pregnant. "We were completely inundated with deli variants in our hospital," recalled Dr. Beazer. "The local news media in Rochester was trying to encourage women so I did a piece about how I'm pregnant and taking a course."
They saw the New York State Department of Health and Human Services and went to the hospital.
"The department felt that I was profiled as a good choice," Dr. Reflects Beazer, who is on the campaign along with another specialty in maternal-fetal medicine. "I was not fit for the campaign when I got the pregnancy Covid-19 vaccination and I got the course during the pregnancy and there were no fetal effects."
By fixed board, Dr. Beazer talks about how she got pregnant. "The exercise consisted of talking about my experience and also eating what is safe for pregnant women and what if it wasn't safe, I wouldn't do it," Dr. Beazer continued. "I have seen Covid take a severe toll on the lives of pregnant women and cause abortions. I would never wish that on my patients and it is such a waste. The vaccine has been shown to decrease the risk of severe respiratory disease in pregnant women who contract COVID-19."
Dr. Beazer said it was important for her to participate in this campaign as a female doctor and a woman of color who identifies as Caribbean American and Latina. "I've created an obstacle for women of color who are hesitant to get the vaccine because of the long history of minorities underutilizing the American health care system," she said. "I have doubts about the Covid-19 vaccine; but I want to trust that it is safe and effective. The best thing to do is to protect pregnant patients and babies."
The campaign kicked off in January and ended in mid-March.