Global
The Israeli police storm al-Aqsa mosque on the second day of Wednesday – Jos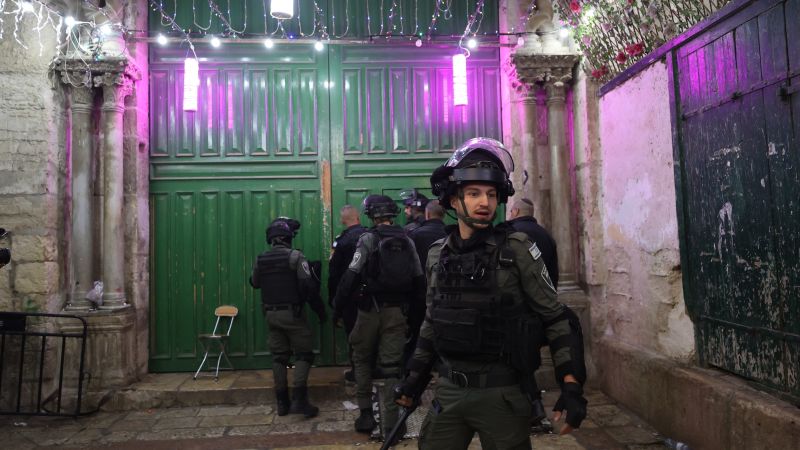 Snoring
–

Israeli police stormed the al-Aqsa mosque in Jerusalem, one of Islam's holiest sites, for the second time on Wednesday, hours after the first mixed raid and hundreds of Palestinians were arrested despite Arab and Muslim condemnations.
The clashes, which took place as al-Aqsa worshipers offered prayers during the Muslim holy month of Ramadan and Jews celebrated Passover on Wednesday evening, prompted retaliatory rocket fire from militants in Gaza.
In the first incident on Wednesday morning, footage shared on social media showed Israeli officers beating people with batons inside a darkened building. Eyewitnesses told CNN that police broke doors and windows to enter the mosque and fired bullets and bullets once inside. A common sight is the spectacle of Israeli police forces holding riot shields as fireworks are fired at them, crowding the walls.
Israeli officials said in a statement that their forces entered al-Aqsa after "hundreds of high-ranking and desecrated mosques (themselves) entered."
The Palestinian Red Crescent in Jerusalem said at least a dozen people were injured in the clashes in and around the mosque, and at least three injured were taken to hospital, some with bullet injuries.
The Red Crescent added that at one point its ambulances were targeted by the police and prevented from reaching the injured.
Police said they arrested and removed more than 350 people from the mosque, and that two Israeli police guards were wounded.
Images shared on social media showed dozens of detained people lying prone on the floor of a mosque with their legs and arms tied behind their backs, and others being led away by handcuffs in a vehicle.
In a second incident on Wednesday evening, Israeli armed forces deployed stun guns and ordered Muslims worshiping there to leave immediately, a video posted on social media shows.
Israeli police said in a statement that "two dozen law-breaking juveniles, some of them masked," threw torches and stones into the mosque and tried to barricade themselves inside.
"Police forces prevented the advocates from closing the doors and barricading themselves (inside) and the worshipers from leaving the Mosque," said the Israel Police.
One witness, cameraman Rami Khatib, told CNN that after moving worshipers out of the mosque, Israeli security guards set up command posts at each gate and prevented people from entering.
The Palestinian Red Crescent in Jerusalem treated six people for their injuries and transferred two of them to the hospital.
Wednesday morning's incident drew condemnation from the Arab and Muslim world. The Jordanian Ministry of Foreign Affairs condemned the actions of the Israeli police "in the strongest terms" and called on Israel to immediately remove its forces from the mosques. Jordan also called for an extraordinary meeting of the Arab League to discuss progress.
Egypt's Foreign Ministry, meanwhile, condemned the police "attack" on the mosque, saying it had "caused many injuries among worshipers and worshipers" and was "in violation of all international laws and customs."
The US Palestinian Authority called for restraint after Wednesday's morning raid, saying on Twitter: "Force has no place in a holy place and at a holy time. They were moved by the horrific scenes at the Al Aqsa Mosque and rocks fired from Gaza towards Israel. We call for moderation and propagation to protect peaceful worship and the sanctity of holy places.
Over the last two weeks, groups of Jewish extremists have been called to slaughter goats in compound mosques, part of an ancient Passover ritual that is no longer practiced by most Jews. A large number of Muslim worshipers remained inside mosques after calls came to stop the attempt.
Last week, a Palestinian man was shot and killed by Israeli police at the entrance to the compound. Palestinian and Israeli sources dispute the circumstances that led to the killing of 26-year-old Muhammad Al-Osaibi.
The mosque compound, often a point of tension, is one of the most religious places in Islam, but also the holiest site in Judaism, known as the Temple Mount.
In a statement Wednesday, Palestinian Authority Prime Minister Mohammad Shtayyeh condemned the actions of the Israeli police, saying: "What is happening in Jerusalem is a greater crime against worshipers."
"Israel does not want to learn from history that al-Aqsa is for Palestinians and for all Arabs and Muslims, and that the attack has provoked innovation against the occupation," Shtayyeh added.
Aviv Bushinsky, a former media adviser to Israeli Prime Minister Benjamin Netanyahu, told CNN that conditions affecting Israel's security could unite the divided nation, but he said it was likely not the motive behind the attack on Israel's al-Aqsa Mosque.
Bushinsky added that he thought Netanyahu's studies would ease tensions
Bushinsky said that the average Israeli is not, however, supporting any extreme Israeli support against the Palestinians in Jerusalem as it would be "too dangerous."
"I think Netanyahu is interested and Ben Gvir is also trying to ease the tension in the Al Aqsa mosque," he said. "Because when there is a rupture, it affects the whole Arab world and we feel it."
The Israeli Defense Forces (IDF) said on Wednesday that about 12 rockets were fired from the Gaza Strip towards Israel after an incident in Jerusalem.
Late on Wednesday, two were fired, which the IDF said. Earlier in the day, 10 rockets were fired from Gaza towards Israel, five of which fell on open fields and one that fell on a factory in Sderot, leaving no casualties, IDF Spokesperson Rear Admiral Daniel Hagari had said in a previous statement.
Ismail Haniyeh, the leader of Hamas, the militant group that runs Gaza, said that "the current Israeli occupation of the al-Aqsa mosque is an unprecedented violation that will not go away."
Later on Wednesday, the Israeli military said its fighter jets had struck weapons manufacturing and storage sites in Gaza belonging to Hamas.
"This strike was carried out in response to earlier firings from the Gaza Strip to the Israeli border," he said in a statement.
Israeli Defense Minister Joab Gallant said Wednesday that "anyone tries to harm us, and it will be a very heavy price that will make Israeli citizens or IDF forces regret it."
The last year has been the most destructive for the Palestinians in the occupied West Bank and for the Israelis in almost two decades, according to CNN's analysis of official statistics on both sides.
And this year also saw a violent start. At least 90 Palestinians were killed, according to the Palestinian Ministry of Health. In addition to suspected militants targeted by Israeli forces, the dead Palestinians include killing, wounding or attempting to kill Israeli civilians, people clashed with Israeli security forces and those around them, CNN reports show.
At the same time, at least 15 Israelis were killed in attacks by Palestinians in Israel and the West Bank, CNN reports show – 14 civilians and a policeman who was hit by friendly fire while checking passengers on a bus was stabbed by a Palestinian teenager. .