Featured
The hot springs of the poet's music on Wednesday night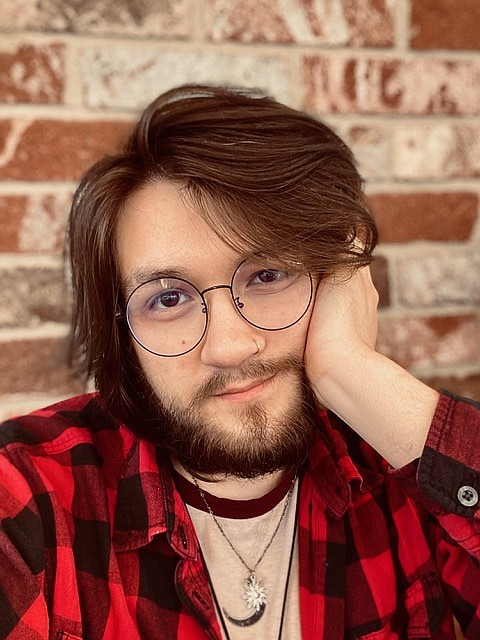 Fountain poets and musicians Spade Vestales on Wednesday night at Poetry Kollective Coffee + Tea, 110 Central Ave.
A formal open mic session for all poets, musicians and storytellers will begin today at 6:30 pm. Vestal will begin his feature at 7:30 p.m., followed by another open mic round. Admission is free and open to all ages. With the arrows All are welcome.
Born in Stillwater, Oklahoma, in 1998, Vestal "reluctantly" now calls The Springs home. "My family moved around the states growing up due to my father working for the US Forest Service, but I thought of my hometown as Elkins, West Virginia, since that's where I spent most of my childhood and teenage years," Vestales said in a news release.
"My father's life ended bringing us all back to Hot Springs in 2013 and I always tried to escape.
"I have three siblings, making a family of six. I am the middle child between my two brothers, Tyler and Zach. Tyler, my older brother, is married with two kids. Zach, my younger brother, lives in DC in the service. My sister Tehya, the youngest of us he is, and now he is a junior in high school, which does not make me think young at heart."
"I have two cats, Hubble and Copernicus! Yes, named after astronomers. I love space, what can I say? Hubble is an anxious protector and Copernicus is a grumpy old man who has protection."
As for the educational status, Vestal said, "It was hard to keep up with so many schools and colleges. The high school was split between West Virginia and Arkansas, and I graduated in 2016. I majored in Graphic Design and Music Theory. Every year before I found my passion for both I'll have a fizz. I'd love to take Psychology and Theater classes though!"
He worked at Starbucks for three years as a barista, then transferred to a supervisor and stayed another two years "before everyone was at his peak Busting the Union. The straw that broke me. In two weeks I put it down. He picked up a pen and began to write: Music and poetry have always been my love , but I never had the space to do what I wanted to do." Everything ended up feeling fake. I didn't start writing songs until late last year. I was at the Poetry Wednesday Night, and it was a wonderful poem by Emery Math that I want to write again."
Vestal describes his poetry as spacious, dreamy and rhythmic. "I write mostly about love, pain, and the ever-present feeling of existential dread that floods my mind," he said.
"What inspires me to write? What I couldn't say at the moment. The amount of love I feel for someone. The hurt that can't be described without time to heal first. Thoughts about love, loss; time and space stop on the page when I can't say it face to face .
"Most, if not all, of my poetry has a real situation attached to it." I started the "Reverie Dreams" project in November, and it talks a lot about something I found in deep connection, and it's eye-opening. "True love" means a state of being pleasantly lost in thoughts, a "dream," so "a dream really" means dreaming dreams. Pouring out my thoughts on paper, not really worrying too much about a certain person seeing it, but rather thinking about something for me. True love, and be mindful,' he said.
To Vesta, Wednesday night means poetic salvation.
"A place where each of us can open our hearts and minds without fear of rejection. I was introduced to WNP by Meton! They mentioned it, and we both thought it was fun to listen to. I didn't know then just how involved I would become, but it's the best thing that's ever happened to me ' he said.
"Lapones is a rare and inoculating young talent, at the top of his mind and sensibility. He is part of a whole new industry of young artists/poets at WNP who have blossomed in the last year or so – Melon, Emeryn; Tanner, Cat, Rowan, Justin, Sky and others , who give me such hope for poetry in Hot Springs. Spade's poetry and especially his original poem 'Ave Spirit' are ethereal and haunting in a way that closes you in and lingers. With an ethereal quality steeped in love and longing, I know his words are in many hearts this week they will find a way," WNP Host and Hot Springs Poet Laureate Kai Coggin said in the release.
"Next week we're kicking off National Poetry Month with an incredibly memorable world-renowned poet visiting from California. Stay tuned for a big surprise," said Coggin.
This week marks 1,783 consecutive quarters of open poetry in downtown Hot Springs since Feb. 1. 1989. "WNP has the longest streak of consecutive weeks open in the country. Wednesday night is a safe space," the release said. E-mail [email protected] for more information.