Featured
Student-Led Weekly News Broadcast Earns National Award | Embry-Riddle Aeronautics University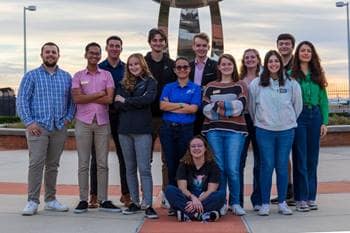 Embry-Riddle Aeronautical University's student news and media outlet, The Avion, recently earned a national award from him. Associated Collegiate Press about a new weekly broadcast program.

The Airplane team announced their first event on Jan. 23. mentioned earlier this year. (Photo: Sean McClure/The Avion)
"This is a reminder for us, especially since most of us are not majoring in journalism or communications," said Dylan Kowlessar, current editor at Chief. Plane. "The Random Control brand is also almost new, so this support means a lot to the team working behind the scenes to make this thing happen every week."
The first of the Avionis was published in January 2023. Several members of the Avionis staff received the second place award for the best Broadcast News Program, for the four-year collegiate program, on March 11. ACP Conference.
"I think the plane was chosen because we're simply putting out a world-class product that's student-led and student-focused," added Kowlessar, who is a junior. Aeronautical Science student
Avion is a student led by the middle division of the Enigmatic Embryo Daytona Beach CampusStudent Government Association. Dating to 1969, he has covered local news and industry in a biweekly magazine, on social media platforms and most recently, on his weekly video radio show.
Danielle Van Pelt, who serves as project lead and news editor for The Avion, said she decided to broadcast because she wanted a way for students to get information about the university and the local area while engaging in fun and travel.
TO communication A major in the Radio Meteorology track, Van Pelt had taken classes in the university's green-screen routines and knew that space could be saved for the Airplane program.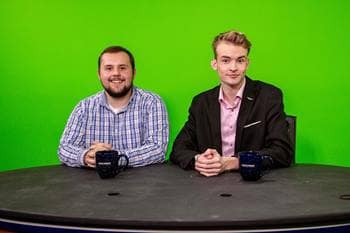 Anchors Tucker Lehtonen and Andrew Harker were shot from a green-screen studio in Daytona Beach's Embryo Field. (Photo: Spencer Abbey/The Avion)
"I was ecstatic when I found out that we had won the Best Showcase award for the second time in four years for the best popular News Program from all fields," said Van Pelt. "I could not believe that our general public was recognized at the top, not even in the first year, but in the first semester.
He said he was excited to see how the new program has also benefited Aviona's staff by improving their communication skills, as they learn to speak on camera and write written messages.
For Andrew Harker, an Avioon anchor and a businessman of the same age, neither Aviation Business Administration student, the radio's goals are simple: "providing quality work, showing what's going on around campus and helping students get involved," he said.
Dr. Matthew Avion faculty advisor R. Sharp, an associate professor of communion, said he was proud of the students' performances. "The Avion competes with universities that have major newspaper programs and are primarily well-funded student tax services. In contrast, most of the students who are involved with The Avion's weekly newsletter are not Communications majors and volunteer their time and talents to provide this content for the university community. bring it forth," he said.
"To place a second national competition in the first semester of a new endeavor like this is unheard of," said Sharp. "I can't wait to see what they do next."
Avion also won ninth place for Feature Magazine at the event, which was held in San Francisco, California, and attended by more than 750 collegiate journalists and their advisors.
Posted In: Institutional News