Lifestyle
Sharing Africa with love across generations – The Indian Express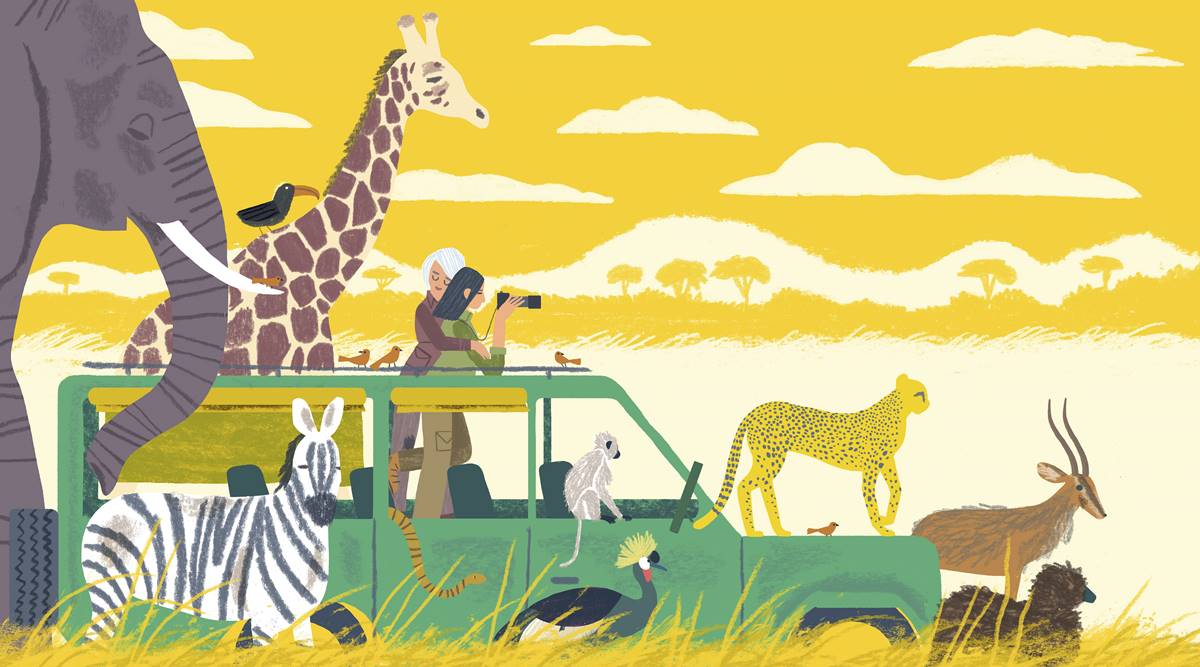 Lynn Sherr wrote
Sammy was the first to spot the wild animal.
We have just landed at Jomo Kenyatta International Airport in Nairobi, Kenya, and boarded the car. We were barely off the exit ramp when he pointed across the road to the leafy perimeter of the Nairobi National Park and with a triumphant grin we announced, "Here's a panther!"
Our intergenerational adventure was off to a great start.
My 24-year-old niece, Samantha Hilford, recently graduated from nursing school and applied for continuing education before studying for her licensing exam. Specifically, he said, "I want to go to Africa. With you."
For her, with a strong heart and a caring heart, it was a pie-in-the-sky dream with a faithful travel buddy. For me, 80, it was a welcome return to a magical place that I have often confirmed with printed and film documents, the opportunity to share my passion with a new generation and, by the way, in memory of my maiden voyage to Africa, exactly 50 years ago.
On that first trip to Kenya, I learned to exchange my urban myopia for subtle bush language: to detect wildlife through camouflage and spotting light, to catch a glimpse of hay that meant hiding a cat. A friend who grew up in Kenya called it getting my "African eyes."
Half a century later, my Gen Z-eyed grandmother required no such training, immediately tagging the glorious species she had heard about as she was born. In that first journey of the camel I had been besieged, captured by the other refinements of the world, as they ran—it seemed to swim—into the wild. And I fell in love, teaching Sammy in first grade that panthers had seven vertebrae in their necks, just like ours. Now I could show that fact.
Warthogs!
I wasn't the only grandmother reaching out over the years to go around the world. It sounds like multigenerational trips, from large family groups celebrating big birthdays to tighter trains marking milestones like graduations. Even warmer are the so-called skip-gen homes (aka gramping) such as ours, parents passing on the connection between grandparents and grandchildren. At Road Scholar, an educational travel company, enrollment for big trips this summer is nearly triple that for multi-generational trips.
Our trendy twosome also served as an icebreaker, engaging with new acquaintances such as our driver Rajab Obura, an instant soul mate. 65 miles north to Naivasha, a popular lake town, Sammy candidly answered questions about tribal faith, mortality and women's rights to children, while also pointing out chimpanzees, vultures and marabou storks. He should not have known the animals when we left.
"Warthogs!" he exclaims, as he stirs the little hooves into the heel. Like many young Americans, Sammy memorized Pumbaa's musical lament from "The Lion King" about the release of his energetic body. "Oh my God, they are so beautiful!" the poem sprang from flesh and hair. From then on, every time the shearers cut off their tails, "Porcelli", "Porchi", "follows the lovers, pressing them twice.
I had chosen the first destination to visit my friend Oria Douglas-Hamilton, who awakened my African eyes. She and her husband Iain converted their family farm into Olerai House, a private sanctuary and luxurious retreat. I was raised in layers and layers of shelters, and lavishly decorated guest houses, but it felt like a family outing.
Lunch with the giraffes
Our journey continued in Karen, a leafy suburb of Nairobi named after author Karen Blixen (style name: Isak Dinesen). We were staying at the house of my friends Bryony and Rick Anderson, who created Giraffe Manor, a nearby legendary hotel where giraffes join you for breakfast. The Andersons sold the business in 2009 to open the nearby, non-profit Giraffe Center, where you can see the resident beauties on a high platform and catch their own shows.
Several years ago, Rick kindly named a new panther after me. Alas, Lynn is no longer with us, but one of her offspring — 11-year-old Eddie Decent — now towers over the rest of the 10-member herd, and I proudly carry my cheetah niece. Eddie snatched Sammy's horns and handled them with his long, purple tongue. Sammy knew Eddie so well that he detected her presence later in the dark when he stopped for dinner on his way home. Family takes many forms.
I had sent Sammy back to Africa, and had received him with friends more as a guest than as a tourist. Then, enjoy that vision with expert guides as we head out on safari to three of my favorite game parks.
He had returned to the elephants
I was reminded of the iconic sights of Amboseli National Park: large animals and towering acacia trees, silhouetted against Mount Kilimanjaro. But a severe drought for several years reduced the herds, and I saw omens from the plane of huge brown patches.
Our guide, Julius Memusi, who goes through the Pili, prayed for rain to revive the vegetation and led us to the paradoxical region of the most fertile subterranean springs to feed on. We saw a bright pink flamingo (and its pale cousin) walking across the shallow pond. We saw scaly, quirky wildebeest, game goats ("burnt pockets," noted Sammy) and lumpy ostriches.
When the elephant parade was on its way, I knew that Sammy had found, well, the cheetahs. He worshiped them from trunk to tail, he could not have larger skins, and they themselves of his majesty.
I loved Sammy showing me Africa: the exotic stripes, the bright spots and feathers; he prevented the grass from crashing into the soft trunks of the elephants; peach fuzz from the panther's nose. Rather, however, she saw it again through her eyes, where the children were the stars and where the matriarchal society of her beloved elephants grew her complex in women's issues. This boy, who had always been a shocked partner in my career, reached out with his own hand. When asked, he always had his back, shining his flashlight on the rocky places so I wouldn't stumble in the dark, my heavy backpack with his. Who married whom? Decades have passed between us.
We arrived at Sirikoi Lodge, a serene haven at the foot of Mount Kenya, where we explored the lush, green Lewa Downs Wildlife Conservation with Tom Hartley, whose company, Big Wild Safaris, organized our trip.
passing torch
Our final destination was the Masai Mara on the Tanzanian border – in fact, adjacent to the separately managed Masai Mara National Reserve, a protected ecosystem with breeding animals. As we circled Yaria in our open air, we whispered lest the five Saxons should disturb the snuggling lions, the golden mane of the gloomy black. A dignified lioness crouched in the tall grass close by, keeping an eye on the cubs to look for evil. And the panther sleeping in the tree inspired the perfect grandson for a moment. After lunch under another brightly branched fig tree, which Sammy called "kid-friendly, scrawny," Tom asked if there was any game. Our Masai leader, Bernard Kashu, jumped into the hood of the Earth and lifted it onto his shoulders. He stretches himself, crawls, then stretches languidly. My niece is a leopard.
On the last day at Mara, Sammy decided to take the hot air vehicle. I was sorry, resenting the recent invasion of the spring lawn. I finally took pity on agreeing to see her that way after almost two weeks.
We flew back to Nairobi and spent the day with the Andersons before our night flight home. "I don't want to leave," Sammy told them, not exactly laughing, as they sipped their drinks under the blazing sky. And then a strange thing.
"It's Eddie," Bryony announced, stepping into the open patio. "He came to say goodbye!" It is more likely that they are gradually gaining some sort of cadding. But the symmetry was superb: Our first and last animals on this trip were giraffes.
When Rajab drove us to the airport, Sammy nodded and told me, "Yes, the fax is done." Yup, but I don't hate it. Africa nourishes my spirit and renews my soul, so I will return. So will Sammy, sometimes bringing mercy, which would set the career of choice on another continent. "I want to take care of the way elephant moms protect their babies," she said. "On the way he confirmed his commitment." He found help amid insurmountable circumstances. He got up to watch her, making my special space his own. For both of us were very strong.
For more lifestyle news, follow us instagram | Twitter | Facebook and don't miss out on the latest updates!