Showbiz
SBU Theater presenting Shakespeare's 'The Tempest' | Living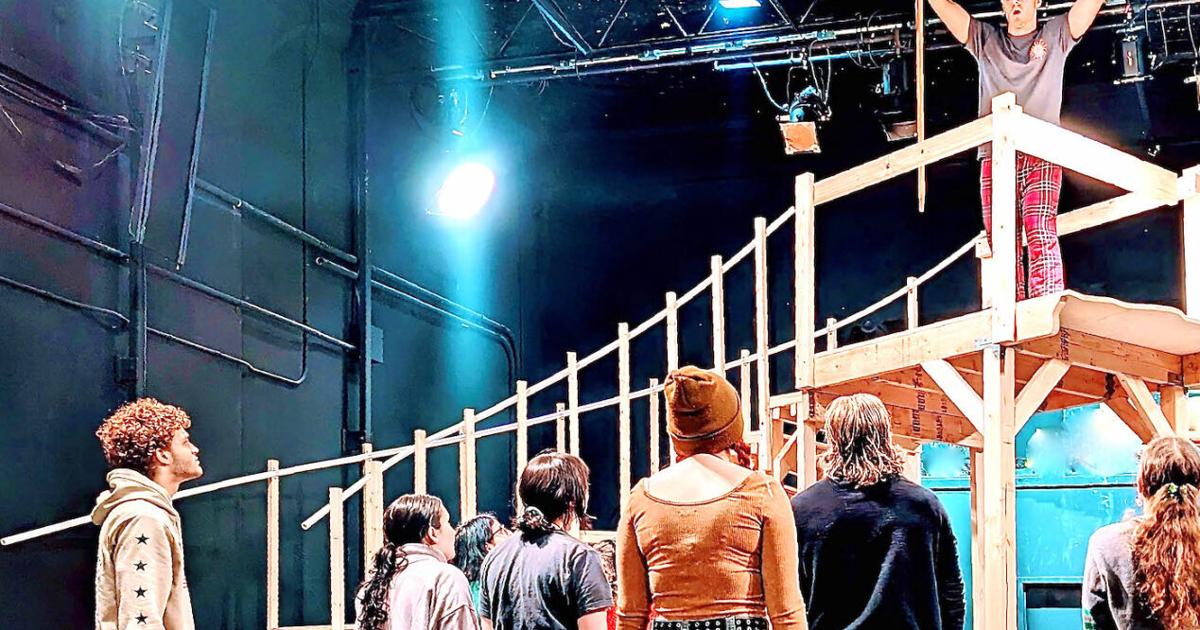 ST. BONAVENTURE – St. Bonaventure University Theater presents a new adaptation of Shakespeare's "The Tempest" in daily 7:30 pm performances through Saturday in the Queen A. Center for the Performing Arts.
"The Tempest" is a story of love, revenge and redemption, wrapped in magic. Prosper, an exiled leader of Milan and a powerful magician, rules a remote island with his daughter, Miranda, a spirit slave, Ariel, and Caliban, the sorcerer's offspring. When he finds old enemies sailing past the island, he stirs up storms and shipwrecks. He sets out to take revenge, but in the way of romance and forgiveness, he changes his plans.
"Shakespeare wrote The Tempest" in 1610 or 1611. It is likely that he wrote the last play by himself, "Dr. Ed. Simon, director of the SBU theater program. "It is a beautiful play with a lot of comedy. And of course everything is magical.
Making much of that magic is SBU Theater technical director and associate instructor Janell Clingenpeel, who designed the production.
Ed. Shakespeare adapted the text so we could use a gender-neutral cast when creating a contemporary costume around the original play," said Clingenpeel. "This gave us the freedom to create an environment that resonates both with Shakespeare's magical island and our world today."
Clingenpeel's design uses projections to enhance the magical elements of the story, while Simon created the soundtrack that supports the action.
The cast looks like they are all student actors. Cameron Carr, last seen by SBU Theater audiences in the fall semester's "Shortchanged: Act Eight Festival," plays Prospero. His spirit servant, Ariel, was played by Ashley Estabrook, who also appeared in "Shortchanged." Caitlyn Williams and Charlie Doebert will make their SBU Theater debut as Miranda, daughter of Prospero and King Alonso of Naples.
Meghan Baehl plays Ferdinand's son. Baehl appeared in "American Characters" and "Shortchanged." Joscelyn Jackson and Jesus Martinez appear in double roles: Jackson as Prosper's evil brother, Anthony, and the Neapolitan joker Trinculo; Martinez plays the king's brother, Sebastian, and the drunken butler, Stephen. Jackson appeared in "Shortchanged" with Martinez, who also appeared in "American Characters" and "We Live By the Sea."
Autumn Reed plays Gundisalvus, an old royal adviser. Reed appeared in "American Characters" and "Shortchanged." Bianca Billoni, in "American Characters," "We Live by the Sea" and "Shortchanged," plays the tormented Caliban.
Members of the student tech company include Mickey Carneiro, an established blacksmith; Josh Brill, who played "Shortchanged," catches the projections and runs the flies; Jack Birtch, another actor from "Shortchanged," is a wardrobe assistant; Meghan Baehl, mentioned above, is a costumer assistant; Emily Tiedemann serves as a light working tableau, as she did for "The Sea" and "Shortchanged"; and Madi Wood, who appeared in "Shortchanged" and was showrunner and ASM for SBU Theatre, serves as the production's stage manager.
"We have a fantastic team of student actors and technicians," Simon said. "And they want to work and work hard. They want to make great theater. I love working with them, and with our faculty and colleagues.
Simone and Clingenpeel Don Hopwood, technical director for the Rapid Center, provided his support and assistance.
"The Tempest" is Clingenpeel's first project at the Quick Center Rigas Family Theater. Previous projects at the SBU Theater include costumes for "A Christmas Angel," "Picasso at the Lapin Agile," "Lines: Surrealist Vaudeville," and production designs for "We Live by the Sea" and "Shortchanged."
"The Tempest" is a fast-paced mix of comedy, magic and romance, Simon said. "He has delighted audiences for over 400 years. This new production promises a memorable evening of theatre."
Tickets for the play are $8 for the public and $6 for SBU employees, students and senior citizens. All seats are assigned. For information or to reserve tickets, call the box office at (716) 375-2494.
The Tempest runs for around one hour and forty minutes, is suitable for all audiences and contains brief lightning and thunder effects.