Global
Report details of 'wrong' church sex abuse in Maryland – The Associated Press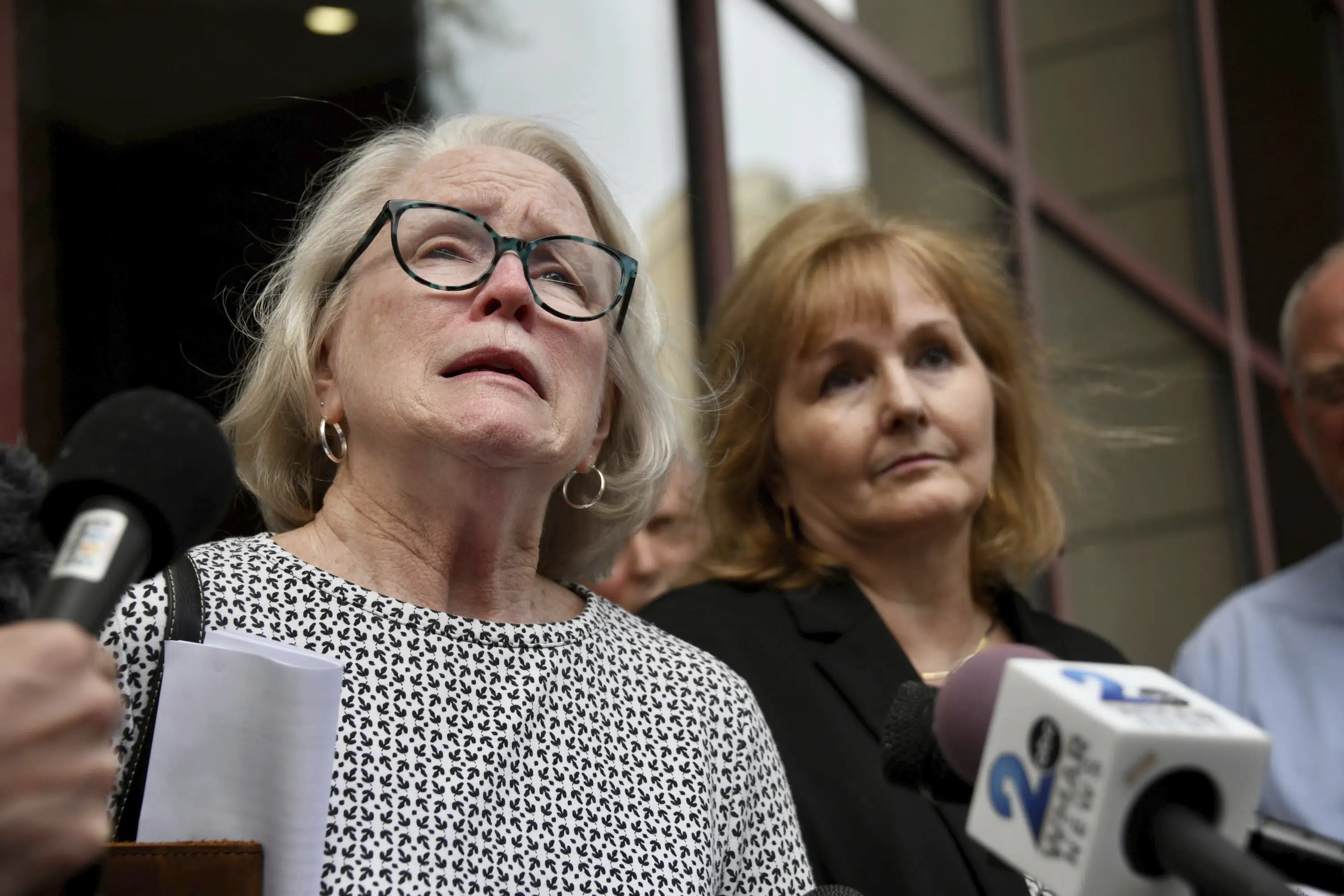 BALTIMORE (AP) — More than 150 Catholic priests and others associated with the Archdiocese of Baltimore sexually abused more than 600 children and repeatedly evaded accountability, according to a long-awaited state report released Wednesday that exposed the 80-year-old abuse scandal and accused the church. leaders decades coverages.
The report paints a damning picture of the archdiocese, which is the oldest Roman Catholic diocese in the country and spans much of Maryland. Some parishes, schools and congregations have had more than one abuser at a time — including St. Mark's Parish in Catonsville, which had 11 abusers living there between 1964 and 2004. Another priest was allowed to feign hepatitis treatment and make other excuses to avoid allegations of abuse.
The Maryland Attorney General's Office released the findings of a years-long investigation into Holy Week — considered the holiest time of the Christian year before Easter Sunday — and said the number of victims was likely far higher. The announcement was made to protect the grand jury's confidential materials, meaning the identities of some of the accused clerics have been withheld.
"The very pervasiveness of the abuse underpinned the culpability of the Church's hierarchy," the report said. "The sheer number of abusers and victims, the depravity of abusers, and the frequency with which known abusers are given the ability to pray in children is astonishing."
The release of the redacted findings marks a development in the ongoing legal battle over their release and he adds that the documents from the parishes around the country are growing day by day, as many similar revelations have been moved by the Catholic Church in recent years.
Baltimore Archbishop William Lori, in a statement posted online, apologized to the victims and said the report was "a particularly reprehensible time in the history of this archdiocese, a time that should not be hidden, ignored or forgotten."
"It's hard for most people to imagine that such bad things could happen," Lori said. "Survivors and victims everywhere know the hard truth: these evils happened."
Also on Wednesday, the state legislature passed a bill to end the statute of limitations on abuse-related civil lawsuits, sending Gov. Wes Moore, who has said support it. The Archdiocese of Baltimore says it has given more than $13.2 million in care and compensation for CCCI abuse victims since the 1980s, including $6.8 million to 105 voluntary settlements.
Maryland Attorney General Anthony Brown, who took office in January, said the investigation showed "pervasive, destructive and persistent abuse." State investigators began their work in 2019; they reviewed over 100,000 pages of documents dating back to the 1940s and interviewed hundreds of victims and witnesses.
Abuse carries a life sentence
The victims said the relationship was a long-overdue public affair facing decades of scandalous accusations against the church.
Jean Hargadon Wehner said she was abused in Baltimore as a teenager by A. Joseph Maskell, a priest who served as head counselor and chaplain of his Catholic school. She said she reported the abuse to church officials in the early 90s, when memories of the trauma finally surfaced about two decades after she was repeatedly kidnapped.
"I was waiting for them to do it right in 1992," he told reporters Wednesday. "I'm still angry."
Maskell reportedly abused at least 39 victims. He denied the allegations before his death in 2001 and was never criminally charged. The Associated Press typically does not name victims of abuse, but Wehner spoke publicly to warn of the incident.
Kurt Rupprecht, who also experienced childhood abuse, said he was in his late 40s when his traumatic memories came together. He said the realization brought some relief as decades of self-destructive behavioral and mental challenges unfolded, but it also left him overwhelmed with anger and disbelief.
Rupprecht said her abuser was assigned to the Diocese of Wilmington, which covers some counties on the Eastern Shore of Mary.
"We are here to speak the truth and we will never stop," he said after the news conference. "We do this every day. It's our life's decision."
The Survivors Network of Those Abused by Priests, known as SNAP, says the report lists more names of abusers than have been officially released by archdiocese officials. Order given by the archbishop to explain the discrepancies.
Other investigations are ongoing for the Archdiocese of Washington and the Diocese of Wilmington, Delaware, which includes both parts of Maryland.
ARCHDIOCESE'S DEGREES
The Baltimore report says church leaders are focused on hiding abuse, not protecting victims or preventing abuse. In some cases, victims have ended up reporting abuse to priests who were abusive themselves. And when law enforcement noticed the abuse allegations, police and prosecutors were often compliant and "interested in investigating what church leaders knew and when," according to the report.
A nearly 500-page document Several instances of leaders include care to protect accused clergy, allowing them to retire with financial support rather than being fired, remain in ministry and not report abuse to law enforcement.
In 1964, for example, Father Lawrence Brett admitted to sexually abusing a teenager at a Catholic university in Connecticut.
He was sent to New Mexico under the guise of treatment for hepatitis and then to Sacramento, where another teenage boy reported Brett's abuse, the report said. He was later assigned to Baltimore, where he served as a chaplain at a Catholic high school for boys and over twenty victims of abuse.
After several students accused him of abuse in 1973, Brett was allowed to resign, saying he was taking care of his sick aunt. School officials reported the abuse to authorities and dozens more victims later came forward. He was never charged with a criminal offense and died in 2010.
The report focuses on the years before 2002, when an investigation by the Boston Globe into abuse and coverage in the Archdiocese of Boston led to an explosion of national revelations. First, the Catholic bishops of the nation agreed to reforms, including a life ban from ministry for any priest, not even a single incident of abuse. While new national policies significantly improved the internal handling of reported abuse in the Archdiocese of Baltimore after 2002, significant flaws remained, according to the report.
Only one person has been identified through the investigation: Neil Adleberg, 74, who was arrested last year and charged with murder and other counts. An ongoing case. Officials said he placed in wrestling at a Catholic high school in the '70s, then returned to the party for the 2014-2015 school year. The alleged abuse occurred in 2014 and 2014, but the victim was not a student at the school, officials said.
WE SHOULD CONSIDER RELEASING MORE NAMES IN THE FUTURE
Lawyers for the state asked the judges for permission to release the report, and a Baltimore Circuit Court judge last month ordered that a redacted version be released. The court ordered the names and titles of the 37 criminal defendants — whose names came out in secretive grand juries — but will consider a fuller version for future deliberations.
Legislators pass a bill to end the statute of limitations They came Wednesday after similar plans failed in recent years. Currently, victims of child sex abuse in Maryland cannot sue after they turn 38. The bill would eliminate the age limit and allow for retroactive prosecution.
The Archdiocese of Baltimore has long faced scrutiny over handling abuse allegations.
In 2002, Cardinal William Keeler, who served as the archbishop of Baltimore for nearly two decades, released a list of 57 priests accused of sexual abuse, gaining a reputation for transparency at a time when the scope of the abuse was widely publicized across the nation. That changed, however, when a Pennsylvania grand jury indicted Keeler for covering up sexual abuse allegations while serving as the bishop of Harrisburg.
___
Associated Press reporter Stefanie Dazio contributed to this report in Los Angeles. Peter Smith contributed from Pittsburgh. Witte reported from Annapolis and Brumfield from Silver Spring.