Featured
Local radio station expands, hosts another nationally/internationally … – Imperial Valley Press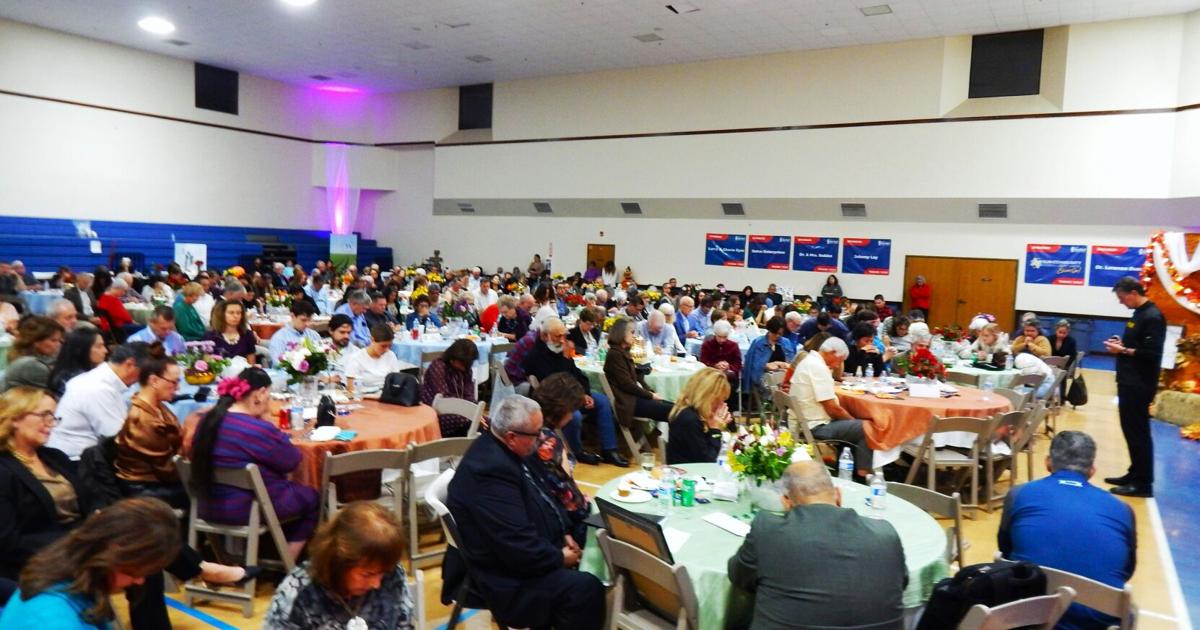 EL CENTRO – Amid the hundreds gathered at the St. Mary Catholic Church Hall for the annual JP2 Radio Benefit Dinner to hear nationally renowned speaker Fr. John Riccardo in his first visit to the Imperial Valley, a progress report of sorts was given those gathered on the expansion of the local faith-based radio station.
JP2 Radio, a radio station first opened in El Centro in 2015 (95.7 FM), has since grown from its second signal tower (93.3 FM in Brawley) to beyond the limits of Imperial County, spreading to San Diego as of 2021 (1450 AM in Escondido), adding its most recent broadcast antennae in downtown San Diego in 2023 (93.7 FM in downtown San Diego).
As of August 2023, the Catholic talk radio station now has a reach of 2.6 million between Imperial and San Diego counties, JP2 Radio station manager Raul Caro said at the Benefit Dinner on Friday, November 17 in El Centro. The station launched in Escondido on St. Patrick's Day, March 17, 2021. The station also has plans and has been working toward expanding its signal in Honolulu, Hawaii but those plans have yet to take shape, Caro said at the benefit dinner.
The reason for the radio station and the expansion is to continue the Imperial Valley-based radio station is "JP2 Radio seeks to convert, invigorate, and inspire listeners in the Imperial Valley community by providing quality Catholic programming centered on Christ, the culture of life, marriage and family, and service to others," according to JP2radio.com.
"This is what you get out of Catholic radio: you're in your vehicle, you're listening to one-on-one conversation, and that transforms you," Caro said. "We're trying hard so everyone knows we're on the air."
"I'm here to say we don't have a station in Honolulu but not all is lost," Caro said. "It's easy to put up a tower believe it or not – once you have the money, of course – and the technical part is not that big of a deal; what's hard in Catholic radio is really to produce your own content … so that's one of our goals is to produce our own local content."
Caro said JP2 Radio has two locally produced shows: the "Live Fire Rosary" on Mondays at 7:30 p.m., created and recorded in Imperial County, and the "JP2 Morning Crew" at 9 a.m. on Fridays, which is created and recorded in conjunction with John Paul the Great Catholic University in Escondido. The locally produced show, "Sacred Heart Narratives," which used to air on JP2 Radio has since been discontinued.
"As time goes by this is going to get better and we'll produce more shows," Caro said. "We have a crew that we are bringing on board … with time our goal is to have a morning drive show (from) San Diego."
The annual JP2 Radio Benefit Dinner serve as one of the primary ways the listener-supported station receives funding, through donors.
The annual benefit dinners for the radio station started in October 2016 with its first guest speaker, well-known Catholic author and radio host Patrick Madrid. Since then, the dinners have continued to bring in high quality and well-known Catholic speakers such as EWTN (Eternal Word Television Network)'s Fr. Mitch Pacwa, Dr. Ray Guarendi, Fr. Wade Menezes. Fr. Donald Calloway, Dr. David Anders, Catholic Answers President Christopher Check, Catholic Answers radio host Cy Kellett and Friday's keynote speaker Fr. John Riccardo, whose talks are frequently broadcasted on JP2 Radio and nationally on EWTN Radio.
"It's a testament to the work that JP2 and Raul Caro is doing that we don't have to travel outside of Imperial County to hear this caliber of Catholic men speak to us," event emcee and Live Fire Rosary host, Eddie Madueño.
"This isn't just a gathering but it is celebration of our faith," Madueño, a retired El Centro Police Chief, said at the event. "It's a shared journey in the spirit of communion and a testament to the enduring impact of JP2 Catholic Radio."
The guest speaker, the Rev. John Riccardo, is a missionary and ACTSs XXIX (29) executive director from Detroit, Michigan. Ordained a Roman Catholic priest in 1996, after 23 years of parish ministry Fr. Riccardo founded the Acts XXIX ministry "to proclaim the gospel in an attractive and compelling way and to equip clergy and lay leaders for the age in which God has chosen us to live," according his bio on the JP2 Radio website. Riccardo graduated from the University of Michigan as well as the Gregorian University in Rome, where he studied and also graduated from the Pope John Paul II (the radio station's namesake's) Institute for Studies on Marriage and the Family.
A highly sought-out speaker, Caro said it took about five years of consistency to get the Rev. Riccardo to speak in the Imperial Valley. Riccardo said he and his three-person team had traveled over 8,473 miles within a week, traveling over 13 states including Florida, and north-central states, on their missionary trek leading up to landing in the Imperial Valley on November 17 for the JP2 Radio Benefit Dinner.
"Raul was gracious enough to chase me down for a little while to come out here," Riccardo said. "I have a huge heart for Catholic Radio. I don't think there is a greater tool for evangelization anywhere, quite honestly, simply because of the reach."
Riccardo said his slightly over one-hour talk on the night was about "What exactly is the mission that belongs to a disciple of Jesus?" because "my experience is that most people don't really know, so I want to talk about it, offer some examples of people who have done that, and then hopefully mobilize all of us who are here tonight to go out there and to continue the work that Jesus began when he rose from the dead and triumphed over death."
Riccardo said the message he conveys, even to non-believers, summarizes the gospel of Jesus Christ in two simple words: "You matter."
"In a world which is increasingly lonely and increasingly feeling like nobody sees me and nobody gets me — we're living through what's being called right now 'The New Great Depression' because of the mental health crisis," Riccardo said, "the message of the Gospel that I just want to proclaim loud and clear is: Jesus sees you, He knows you, He thinks you're worth dying for, for you He's defeated though not yet destroyed the powers of sin, death and Satan; and He knows what He's doing and you don't have to be anxious right now."
"Jesus died for the ungodly people (and) that's me – that's you," Riccardo said during his talk. "It's not enough to have confidence in him; we need his heart."
Amid the 410 attendees on Friday, Riccardo said even though his team travels frequently the warmed and kindness of those who received them in the Imperial Valley made it 'feel familiar' to him.
"I love the diversity of the age and the ethnicities," Riccardo said of the Imperial Valley crowd gathered in El Centro. "It's just a good vibe here, which is great."
"It feels like home," he said.
In addition to the FM and AM stations listed above, JP2 Radio can be listened to online at JP2radio.com. For more on John Riccardo, visit actsxxix.org and rescueproject.us.