Lifestyle
Living Medicine at the Center of New Permitting Wild-Ness… – The Press & Journal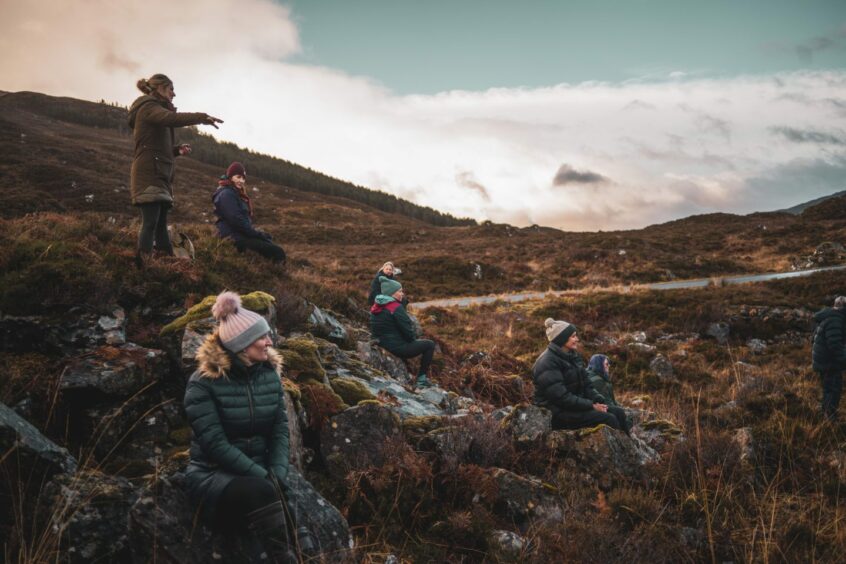 When we think of medicine, most of us are brought back from the childish group to the slow sweet, or we think of rheumatism and colds catching in the back of our throats.
But a new approach seeks to separate this link and replace it a little more gently.
Katharina Jones has worked as a GP for 21 years, working in prisons on transatlantic ships and on board.
She joined NHS Highland as associate medical director in 2017, but soon felt the weight of the role dragging her down.
"We came to the mountains for their natural beauty, but what happened was that it worked all the time," Katharina said.
"I got completely immersed in it and did not live well."
He returned to clinical work after three years, but realized that something needed to change about the way.
The discovery of living medicine
"I've noticed a lot of patients who have had long-term or chronic conditions," he explained.
"I had learned the way to be a GP, so that people would come in and try to help them, but this was not really necessary. The problems were often related to lifestyle or past trauma, for me and the patient, they were futile.
On a more personal level, the stress of the last few years had taken its toll on Catherine.
He said: "I realized that my ability to remember things and process information was not working well.
"Even things like packing and the system became difficult; I asked if I could be a doctor."
Then Katherine learned the benefits of living with eye medicine, taking it running with another mum to meet the school gates.
"Connecting all that with other people, outside, I started to feel better," he said.
"I went from thinking that medicine was going to be a part of medicine that I enjoy."
Wild-Ness Spa and Retreat
Lifestyle medicine is based on six pillars: healthy eating, mental health, healthy relationships, physical activity, minimizing harmful substances and sleep.
Katharina explained: "It's a coaching approach, you try the duty and the power and deliver to the satisfaction of the patient from those clinics."
"It's really powerful, it's good for patients and for the reason."
Passionate about using what she had learned to help others, Katherine set up the Wild-Ness Spa and retired last April.
In many homes throughout the mountains, there are well-retired guests, events and workshops to encourage others to implement this new approach.
The event-packed retreat includes talks with experts, acupuncture, open water dunks, horse sauna trips, live music, spoken word shows and fireplace stories.
Working in Mt
The Drumnadrochia area provides the perfect setting for Catherine's exercises.
He said: "The well-known signs of green and blue scenes are good for mental health, where we live, overlooking Loch Ness, is perfect.
"For urban dwellers, natural beauty is important to what I am trying to deliver – mental rest and sanity, a place for reflection."
From the get-go, Wild-Ness was supported by a tight local network.
"We met a lot of others in the area who were doing holistic therapy and the like, so we set up a health network to bring like-minded people together," said Katharina.
"Normally when visitors come to the area, they might go on a boat trip in Loch Ness or enter a castle, but they don't discover this wealth of expertise from the local community – people who can give them a real experience in creativity."
Local businesses involved in Wild-Ness include Quila Cridhe Tearoom who offer tasty treats, Cairn Candle Co who make guests leave with the gift of the sweetest scent and Photography who captures everything on camera.
Putting on your oxygen mask
Now fully trained in lifestyle medicine, Katharina wants other clinicians to come to the retreat because of the impact she has had on her journey.
He said: "It's that idea of ​​putting on your own oxygen mask before you help others. Let's get into a lot of roles, to be a hero or a villain.
"We have to look at ourselves, it's not that we're always good."
Looking forward to more after a year, Katherine said: "I'm trying to make it a fun experience where people can connect with others, but also have space and time to think about their health.
"I want people to leave with hope and hope, feeling empowered. If they can work out where they want to go, we can make small changes to help them get there."
"For most people, it's not about winning the lottery or moving to Hawaii, it's about finding what makes them happy."
Find out more about Catherine and Wild-Ness, or about the book of retirements in November, at linktr.ee/wildnessretreat or @wildnessretreat on Instagram.