Featured
Holtville FFA continues to excel at the annual State FFA Conference featured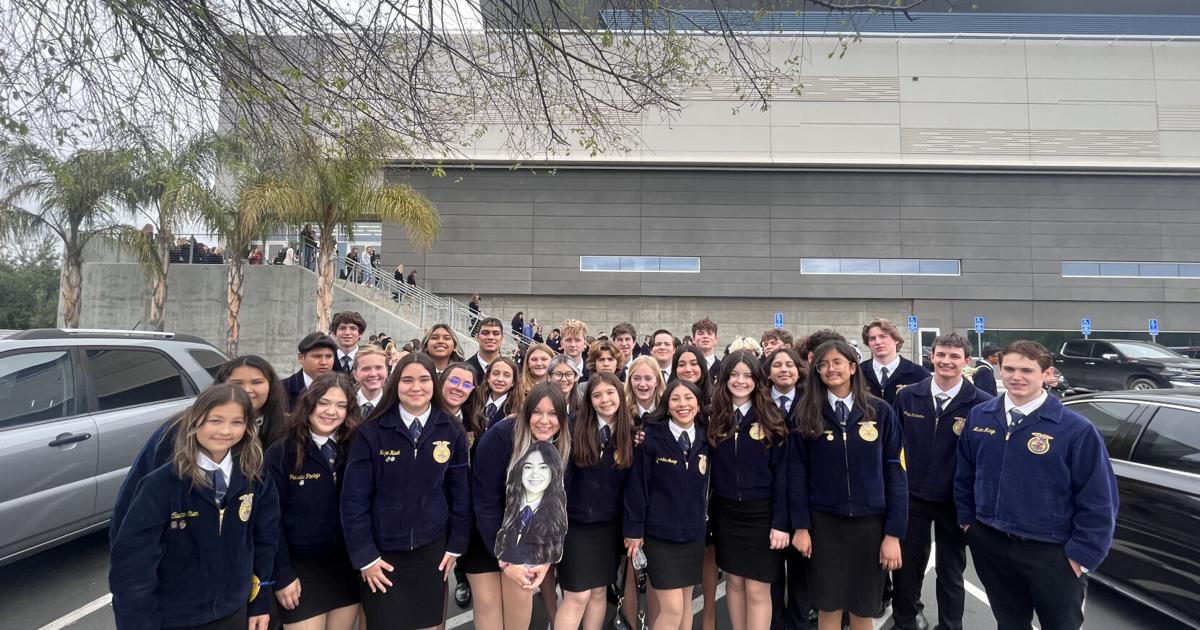 HOLTVILLE – The Future Farmers of America of Holtville High School, or Holtville FFA for short, their winning streak in the 95th Annual FFA State Conference in Ontario, California from March 16–19.
Not only has the school drawn an average of 20 to 25 students to the conference each year for seven years, but more Holtville FFA students have walked across the stage, receiving state honors in various categories of conference, said Holtville FFA advisor Lindsay Cox. in an interview on March 28.
This year, the Holtville FFA welcomed 48 students to the Ontario State Conference, the most schools to participate, he said. According to Cox, of those 48:18 students were recognized as agricultural science finalists with about six winning, one was a state development finalist, one was nominated public candidate, two were elected district officials, two were elected state delegates; 25 was part of the event's "Courtesy Corps", which help the event.
The six students who participated in the Agri-Science Fair (which took place at the state conference) will go on to compete on the national stage at the national FFA conference in October later this year, Cox said.
In addition, the five qualified in public speaking for the state over the last weekend in March in the state competition speaking, "so it's important to keep pushing us and see if any of them can go from there," Cox. he said.
Cox and this year's FFA STAR winner, sophomore Valeria Velarde of Holtville FFA said Holtville students seeing other Holtville students walk across the stage at the State FFA Conference and receive awards or recognition inspires other students at Holtville to want to do the same in the future. ,
"It's kind of this idea that success breeds success, and getting motivated to succeed is what you do," Cox said. "or they can see the personal growth or professional growth they can achieve through the FFA organization."
"They see these other kids walk across the stage and they start setting these goals (like), 'Oh, I guess I'll be there too,'" Cox said.
When asked what Holtville FFA attributes to its success at the State FFA Conference over the past few years, Cox said it is a mix of student efforts, taking on a peer-to-peer mentoring program in which older students mentor younger students; community engagement and community support from Holtville.
Last month in March, Velarde also qualified for FFA's first ever "Spanish Symbol" public speaking competition, where FFA students express their opinion using Spanish in a public speaking fashion, and answer the judges' questions after the recital.
"It's the first time I've competed that it's been such a difficult exercise since our ag counselors don't know Spanish," Velarde said, which made Cox chuckle.
Velarde was the winner of the district's "Spanish Symbol" in the FFA public speaking competition, which California State Polytechnic University, Pomona, on March 24, the duo said, would qualify her for an upcoming public speaking competition. It also won the Southern Region Webpage Award for web design.
"It's the only thing," the sophomore STELLA Reporter said of the Spanish solo competition, "but we did really well."
In addition, Holtville High School Principal Anthony Arevalo was a finalist for the South Region State STAR Administrator Award, also receiving the title of state winner, according to Velarde's report.
"It's a really inspiring conversation and motivation for a lot of these kids," Cox said.