Featured
BBC Radio Bristol Make a Difference Awards honour community champions – BBC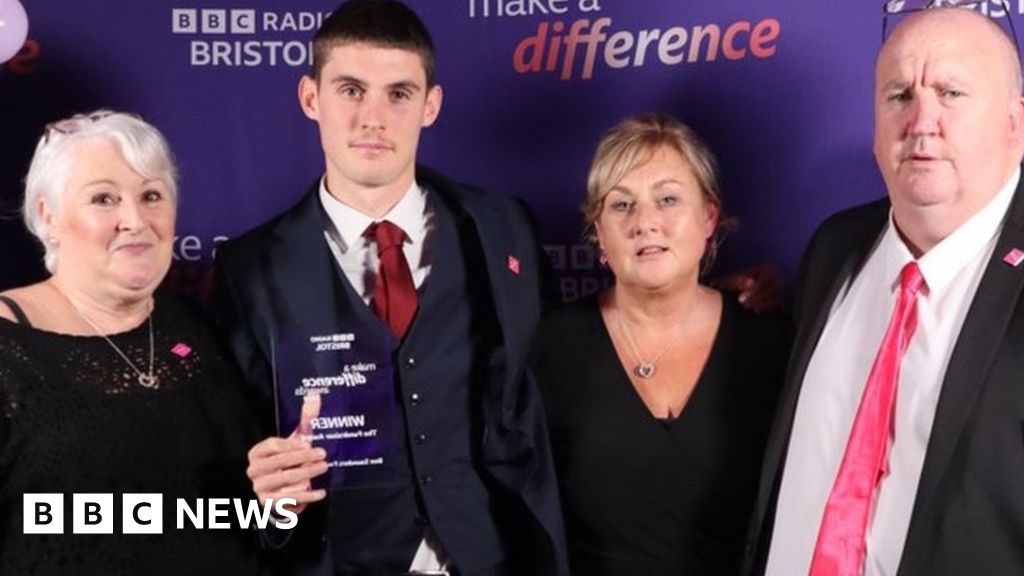 By Adam Crowther & Dean Poolman
Broadcast Journalist
A couple who raised £600,000 to help families affected by illness, after their own son died from cancer, have been honoured for their "devotion".
They were celebrated alongside others at BBC Radio Bristol's Make a Difference Awards.
Eight people were recognised for going above and beyond to help others at the event in Weston-super-Mare.
It was hosted by presenter Paris Troy and attendees enjoyed funfair rides before the affair at The Grand Pier.
Categories for the awards included Fundraising, Volunteering, Community Group, Great Neighbour, Bravery, Green Award, Together Award and Carer.
All nominees were from Bristol, South Gloucestershire, North Somerset and Bath and North East Somerset.
The Fundraiser Award went to the Ben Saunders Foundation in Bath.
It was the idea of 18-year-old Ben in the final weeks of his life before he died of cancer.
The foundation aims to provide memory making holidays for families affected by illness.
Over three years his parents, Tom Saunders and Joanne Saunders gave more than 300 families breaks away in their three retreat lodges, through the organisation.
Hollywood star Kelsey Grammer judged the category and said she admired their "devotion to helping others".
"They have turned their suffering into a way to help those who are suffering," she said.
In an emotional award acceptance Mr Saunders said it "means everything to us".
"Everything we do is to try and keep Ben's memory alive. We couldn't have dreamed of this," he said.
Hayley Jennings, from Bristol, was declared the winner in the Volunteer category.
She set up the organisation Helping Homeless Believe to support homeless people within the city and provide an advisory service to them.
Hayley was described as "a lifeline to those on the street, always offering an ear to listen and help where she can. A true living angel" by the person who nominated her.
The Volunteer Award category judge, TV presenter Mark Millar said "Hayley blew me out of the water.
"Volunteering is the most powerful thing out there. You've been helping the homeless onto a new path," he said.
The winner of the Community Group award was Barton Hill Rugby Football Club Charity Café which raises funds for specialist wheelchairs for children.
Mandy Bryant from the café said it was a "surprise" to win.
"Being such a small team, we didn't expect to win," she said.
Category judge and Radio Bristol breakfast show presenter, Joe Sims, said "I couldn't be more proud to be a Bristolian and share the dodgems with the lot of you, cause you're absolute beauties".
The Carer Award winner was Linda Pillinger who has been a Family Link and foster carer for 40 years helping children with disabilities, who she cares for in her own home.
BBC Newsround presenter and judge Shanequa Paris said what she does "is such a blessed thing"
"I can imagine that your selfless acts with all these kids have helped them and helped their future," she said.
When asked how long she'll carry on caring for Ms Pillinger said she has "no idea" because "it's part of my life".
Katie Chun was presented with the Great Neighbour Award for her work running The Hive Community Centre in Peasedown St John and organising events for the village to bring them together.
She said she was "shocked" and "grateful" to have been chosen.
The individual who nominated Ms Chun said without her, "Peasedown really would be lacking in community spirit".
Olympic figure skating champion Robin Cousins MBE and judge said it was an "easy call" and everything Ms Chun does "goes into the community and beyond".
Eve Lauder, from Weston-super-Mare, was chosen as the winner of the Bravery Award.
Ms Lauder died in May after being diagnosed with goblet cell cancer in 2020.
She raised money for cancer charities and made cancer patients at Weston General Hospital care packages
Her daughter, Tiah Lauder said: "It's a shame she can't be here to receive this herself, but I know she'd be proud."
Actress, comedian and judge Jayde Adams said she felt "inspired by her" spending her "last years on earth trying to make people happy, being generous, kind, compassionate and empathetic."
Laura Murgatroyd, from Bedminster in Bristol, was chosen as the Green Award winner for her work with the Patchwork Community Gardening Group which transforms unloved corners of suburban Bristol into pocket gardens and orchards.
The person who nominated Laura said the group have "worked wonders over the past 20 years to help brighten up and green the streets of Bedminster – none of which could have been done without Laura's dedication and commitment".
When she received the award Ms Murgatroyd said "This is for all the Patchwork Community Gardening Group. It's for them."
Bristol Hippodrome pantomime star and judge Andy Ford said: "It's wonderful what you do. Because it means you care for society".
The winner of the Together Award was Charlie Hartley-Hodge from Backwell, in north Somerset.
She was recognised for bringing women together to participate in walk and talk sessions and activities with the aim of improving their mental health and wellbeing.
Briony May Williams from BBC One's Morning Live programme was the category judge and said Ms Hartley-Hodge "is the essence of what the Together Award is all about."
"I really think she's doing so much for women and their mental health and for the community," she said.
Mrs Hartley-Hodge said: "Everybody here is bringing people together. So to get this award, I'm really, really stunned. So thank you".