Global
9 soldiers after 2 Black Hawk helicopters crash in Kentucky during training mission, Army says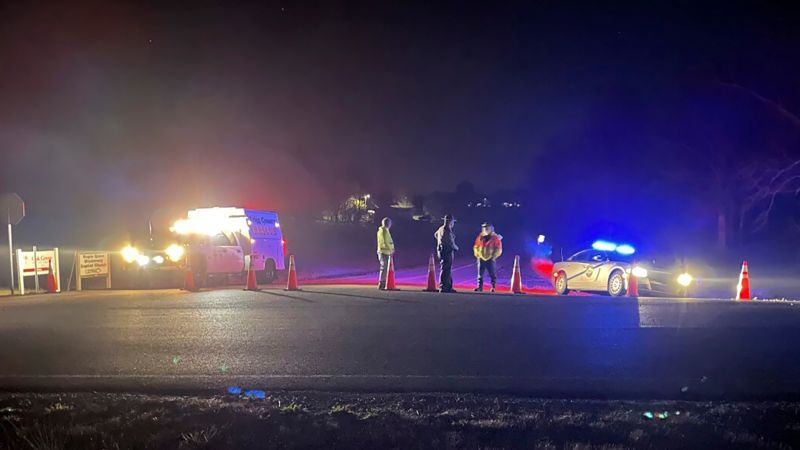 Roncus
–

Nine U.S. service members were killed after two helicopters belonging to the 101st Airborne Division crashed late Wednesday in southwestern Kentucky, officials said. There were no survivors.
Two HH-60 Black Hawk helicopters crashed around 10 p.m. in Trigg County near the Tennessee border, officials said at nearby Fort Campbell. he said Thursday morning They were participating "in a routine training mission when the incident occurred," the base said in a statement Facebook.
The helicopters were medical evacuation aircraft, and the crash is believed to have occurred while flying and not during medical drills, Brig. Gen. John Lubas, lieutenant commander of the 11th Airborne Division, said at a news conference Thursday morning at Camp Campbell.
The aircraft went down in an open field in a residential area, so no additional accidents or injuries were reported.
The Black Hawks that crashed were two of four helicopters involved in the training exercise, according to 101st Airborne Division spokesman Staff Sgt. Joshua Tverberg. One helicopter had stopped for refueling, and another was going down before the two.
Defense Secretary Lloyd Austin said on Thursday that he was "very saddened by the loss" and was working with the Army to "make sure our troops and families receive the care they need in the event of an emergency."
"My heart goes out to the families of these members and the members of the 11th Airborne Division who bravely and proudly serve their country every day," he said.
The names of the deceased will not be released until all their families are notified, Lubas said.
"We're going to do what we always do," Kentucky Gov. Andy Beshear said in a news conference, acknowledging the families of fallen soldiers. "We wrap our arms around these families and we are there with them not just for days, but for weeks and months and years to come.
A military investigative team from Fort Rucker in Alabama will travel to the crash site and investigate the cause, Lubas said. An Army official told CNN he expects them to arrive Thursday afternoon.
The HH-60 Black Hawk is a medical evacuation variant of the helicopter that can transport a fully equipped 11-man infantry squad. One aircraft had five on board, the other killed four people, which Lubas said is typical and includes the pilot, co-pilot, main crew and "medical or other personnel."
Secretary of the Army Christine Wormuth said Thursday was a "tough day for the Army."
"Thank you for your comments and your thoughts and prayers for the families of our soldiers who were killed in the crash," Wormuth told the attorneys at a Senate Armed Services Committee hearing. "Let us go out our hearts to them."
"I was devastated to learn of the crash of an Army helicopter over Kentucky that involved our 101st Airborne," Senate Minority Leader Mitch McConnell of Kentucky said in a statement on Twitter. "My team is in touch with the military and the powers that be on the ground. Pray for our service members and their families as we learn more.
The crash comes less than two months after two Tennessee National Guardsmen were killed when their UH-60 Black Hawk crashed during a flight in Alabama.
The military averaged five deaths in service aircraft per year in accidents as of fiscal year 2018. Army Combat Readiness Center.
It's the worst helicopter training incident since 11 service members were killed when a Black Hawk crashed on the coast during a training mission that took off from Eglin Air Force Base in Florida.